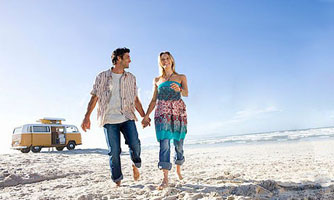 Do you wish to travel with your camper / caravan?
Choose Anek-Superfast for your crossing from Italy to Greece inside the comfort of your camper / caravan with friends or family or why not take your four legged friend with you?
You simply pay for a deck ticket and the vehicle fare and you are ready to start your unforgettable holidays onboard of Anek-Superfast!
Terms & Conditions
Available from 01/04/2023 – 31/10/2023.
Camping on Board is permitted on the ferries: SUPERFAST I, SUPERFAST II, SUPERFAST XI, OLYMPIC CHAMPION, HELLENIC SPIRIT
Limited availability on the camping deck. Securing a place as early as possible is highly advised
Passengers travelling with campers or caravans must present themselves at the boarding desk no later than 3 hours before the departure time of the ferry. Late arrival of campers or caravans the entrance on the ferry may not be allowed.
Vehicle is accommodated on open deck and fare to be applied is the respective vehicle fare + deck fare for the passengers.
Passengers have access to their vehicle throughout the trip as well as all common areas on board.
The service is available only for vehicles that are registered as campers or caravans. Vehicles that have built in sleeping facilities but are not officially registered as camper vehicles are not permitted on the open deck.
For safety reasons it is strictly forbidden to cook, use gas or any other flame while on the Camping Deck.
The service is not available on the ferries ASTERION II, ARIADNE, ELYROS nor for connections from/to Corfu.