Comfort on Board!
From the moment you come on-board, hospitality is an integral part of the Superfast philosophy. From the warm welcome you will receive from the crew, to the speed with which you will feel at ease in the surroundings. This is due to the fact that on Superfast Ferries, all areas -communal or not- have been designed to create the most pleasant atmosphere. They are warm, friendly and fully equipped to satisfy your every need.
Finally, it is time to retire to your cabin. One-bed, two-bed, three or four-bed, inside or outside, their comfort will come to you as a surprise.
Everything is looked after down to the smallest detail. Air conditioning, private telephone, stereo music, WC and shower room, all ergonomically designed, will make your stay truly pleasurable. Your journey with Superfast, will be an unforgettable experience.Most of our cabins are also available on a per-bed basis. Special consideration has been given to ensure that all cabins for passengers with special needs are tailored to fulfil their requirements.
Accommodation Types
LUX
2 Bed outside cabin + wc + shower (including breakfast)
AA2
2 Bed outside cabin + wc + shower
AS2
2 Bed outside cabin + wc + shower (2 lower beds)
AB2
2 Bed inside cabin + wc + shower (2 lower beds and 2 upper foldaway beds)
A3
3 Bed outside cabin + wc + shower
AB3
3 Bed inside cabin + wc + shower
AA4
4 Bed outside cabin + wc + shower
AB4
4 Bed inside cabin + wc + shower
DOR
Dormitories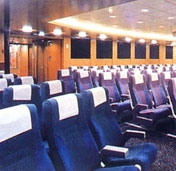 S
Aircraft Type Seats