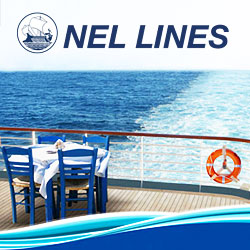 Nel Lines Ferries serves the Northeast Aegean Islands, the North Sporades and in between Cycladic Islands with ferries, highspeed and ro-ro vessels.
Nel Lines owns the largest and fastest ship of the Mediterranean; the "Aeolos Kenteris", an example of luxury and elegance and definitely one of the "diamonds" of the fleet.
Offering a great family deal and providing high quality for the lowest possible prices, Nel Lines strives to help families enjoy a comfortable and unforgettable holiday!
The luxurious, clean and tastefully decorated areas on board of the Nel Lines vessels, are just small examples of their attention to offer you nothing but the best.
Equipped with the highest quality services and facilities: bars, shops, restaurant and internet corner; the ferries of Nel Lines offer everything for the passenger convenience and will proof that sea travel is fun! Enjoy the comfort from the moment your journey starts.
Whether you are looking for comfort, a good meal, a drink or a refreshing while overlooking the endless blue sea; all this is combined in a trip with Nel Lines.
Nel Lines is your gateway to the Greek Islands!