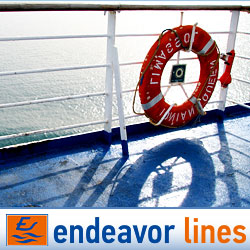 Endeavor Lines is an economical solution to travel between Italy and Greece, from Brindisi to Corfu and Kefalonia or to the ports Igoumenitsa and Patras on mainland Greece.
Senior discounts, family discounts, infant-, child- and youth discounts are offered and the passengers can take advantage of seasonal offers such as the early booking discount.
Eurail en Interail are entitled to a free deck ticket and discounts on all other accommodation categories. Endeavor Lines offers the 'Camping on Board' services, enjoy the comfort of your camper or caravan while you make your ferry crossing.
Regardless of the choice of your accommodation, Endeavor Lines leaves nothing to be desired.
If you have a tight budget to spend, but still want to travel comfortably, Endeavor Lines is the choice for you!