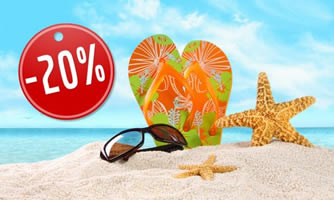 Anek-Superfast – Early Booking Discount
Being prepared always pays off!
Same rule applies when traveling with Anek-Superfast…book your tickets in advance and save 20 % on your ticket cost.
No matter your age, your travel dates or the accommodation type you prefer, you are still eligible for the early booking discount.
Benefit from the offer and travel with your vehicle as the discount can be applied to all vehicles up to 6m long and 2m high.
The best part of the offer is that it can be combined with other discounts as well!
Terms & Conditions
Reservation period: until 28.02.2019
Valid for one way and roundtrip: Between 01.01.2019 – 31.12.2019
Valid for confirmation and issuance: by 28.02.2019
• Ancona: The 20% Early Booking discount applies to all categories of passengers, cars, cars with roof rack, vehicles up to 6m in length & up to 2m in height, trailers up to 2.50m in length & 2m in height and in the fare for motorcycles. This does not apply to bookings with other categories of vehicles as well as to bookings with Camping on board.
• Bari & Venice: The 20% Early Booking discount applies to all categories of passenger and vehicle fares as well as to Camping on Board bookings.
• Once ticket has been issued, the reservation may be changed but not cancelled (if the reservation is changed after 28.02.2019, the difference between early booking and brochure fares has to be paid) – difference is calculated on the affected leg of a round trip ticket.
• Tickets may be issued with an open return (outbound leg with Early Booking discount, inbound leg with brochure return fares – no further Early Booking discount). • Discount applies only on fares illustrated in our official brochure.
• Discount is given on top of all other discounts mentioned in our official brochure (apart from the child discount).
• Limited capacity available.