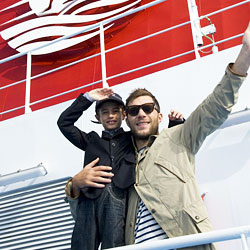 Minoan Lines is the most renowned ferry company which operates the Adriatic Sea, with a modern fleet of 4 beautiful ships. For years they have offered quality services to their passengers traveling between Italy and Greece; Patras, Igoumenitsa and Corfu as well as the popular route between Piraeus (Athens) and Heraklion (Crete).
From the beginning Minoan Lines has had the highest ranking in customer satisfaction and has been awarded several times as Passenger Line of the Year by Loyds List.
Offering special discounts like family offers, early booking discount, show your card discount, special discounts for children, young people and seniors, etc, Minoan Lines offers you a relaxed, exciting and unforgettable journey for a reasonable price. Travelling with Minoan Lines offers you additional benefits such as discounts for camping places etc.
The brand new ferries of Minoan Lines offer you classy service on board, with great restaurants, cafes, bars, internet corners, casino, cinema, video games, children's playground and of course a swimming pool.
When travelling with a camper or caravan, Minoan Lines offer you an extremely comfortable not to mention economical solution with their Camping all Inclusive Offer whereby you enjoy the comfort of an inside cabin for the price of deck ticket per person plus significant discounts on meals and beverages on board, while your vehicle remains in the ship's garage with access to electricity during the ferry crossing.
Your holiday begins as soon as you board a Minoan Lines ferry!
Book your tickets now and get in the holiday mood!